Junior Achievement Program Supplements
The following supplements are available to JA Areas, teachers, volunteers and parents for use with all JA programming to extend and enhance the JA experience for students. These supplements provide students with additional information, learning opportunities, and experiences that support their understanding of JA's curriculum.
Economic Investigations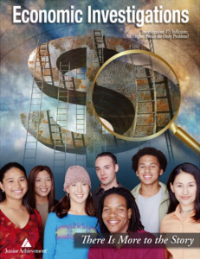 Junior Achievement, in cooperation with the Social Science Education Consortium, has developed 12 "Economic Investigations" designed to help High School students achieve a deeper understanding of current economic issues. Each investigation:

- Provides a classroom orientation to explore economic concepts similar to the type of experience students would encounter in a laboratory science course.
- Reinforces the development of quantitative skills by bringing economic concepts to life through the use of real situations.
- Focuses on intriguing economics questions designed to spark student and teacher interest.

View Supplement
Excellence Through Ethics
This program supplement contains lessons focusing specifically on decision-making, business ethics vs. personal ethics, and facing difficult decisions with honor, among others.

View Supplement
JA Access Your Future™
JA Access Your Future is an app that helps teens, their parents and teachers break down the cost of achieving young people's career goals into real, easy-to-understand numbers.

Created jointly by Junior Achievement USA and PwC, JA Access Your Future helps teens explore potential future income from a desired career and evaluate the cost of post-secondary education to help them make informed decisions.

In JA Access Your Future, teens can assess more than 100 careers, see what levels of education are required, then calculate the cost of education. Teens can then adjust the level of money they and their parents may contribute, combined with student loans they may need to secure. At the end of the exercise, teens are given a Return on Investment (ROI) score between 1 and 5. The score helps teens and their parents create a roadmap for success that will take them from choosing a career to calculating the cost of achieving it.

View Supplement
JA Assembling Your Career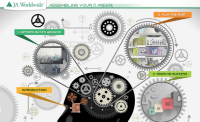 JA Assembling Your Career helps provide middle school and high school students with practical information about STEM (Science, Technology, Engineering, and Mathematics) careers and ways students can prepare for these careers while still in school.

View Supplement
JA Connect™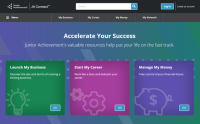 JA Connect Learning Pathways is Junior Achievement's first self-guided student experience, featuring a flexible, modular repository of activities related to work and career readiness. The online activities give students an opportunity to acquire knowledge and to apply and practice new skills and behaviors inside or outside of the classroom. The content is relevant to JA Career Success® and other JA programs in the Work and Career Readiness Pathway, and extends or enhances classroom content. The self-guided activities can also be used independent from a JA program.

View Supplement
JA Influencer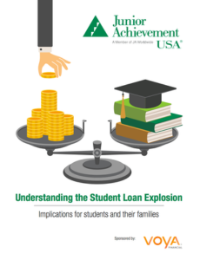 JA Influencer is a resource for educators to discuss topical subjects on financial literacy, work readiness and entrepreneurship with students. Designed with high school students in mind, the JA Influencer white paper and discussion guide dive into current events to prompt conversation and learning.

View Supplement
JA Searching for Savings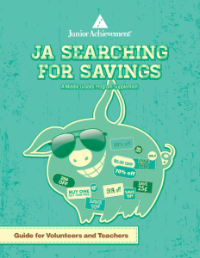 JA Searching for Savings is a supplemental activity that seeks to help middle grades students see the value in online tools that help save money. Following participation in the supplement, students will be able to decipher the value of coupons in an overall budget.

View Supplement
JA Teen Budgeting Income and Spending Worksheets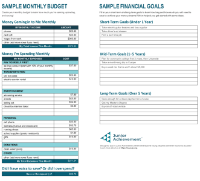 The Junior Achievement Budget Sheet provides students with the opportunity to track their income and spending throughout the month.

Students are also encouraged to share their long-term and short-term goals in order to budget for the future.

View Supplement
Junior Achievement $ave, USA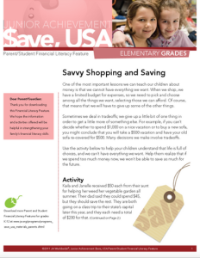 We know it can be tough to speak to or teach your kids about money-management issues. We hope that you find these lessons helpful with those conversations!

View Supplement
"Junior Achievement reinforced concepts for me to remember later in life."
Junior Achievement Student
"I thought the experience was amazing. The presentation was unlike anything I've seen."
Junior Achievement Student
"Junior Achievement has given me a sense of what adults go through with budget issues."
Junior Achievement Student
"I liked how the Junior Achievement volunteer explained his job to us."
Junior Achievement Student