JA Assembling Your Career helps provide middle school and high school students with practical information about STEM (Science, Technology, Engineering, and Mathematics) careers and ways students can prepare for these careers while still in school.


JA Assembling Your Career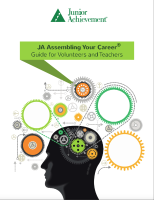 JA Assembling Your Career
promotes the valuable involvement of teachers, corporate volunteers, and non-profit youth programs to engage middle and high school students in STEM Careers. The Guide for Volunteers and Teachers as well as the online tools provide practical information about STEM careers and ways for students to prepare for these high-demand careers while still in school.
Following participation in the supplement, students will be able to:
- Articulate why STEM careers and STEM skills are important to their futures, regardless
of where they live now or where they choose to live as an adult.
- Identify two-three STEM fields that they wish to explore beyond these activities.
- Chart a path to get them from where they are now to a STEM career.